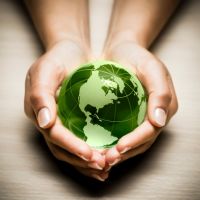 Hospitals operate 24 hours a day, 365 days a year. And in the process of treating patients, they use a lot of water and energy and generate a lot of waste from medical products, protective drapes and packaging. Though most hospitals have initiatives to reduce their carbon footprint, more can be done.
Starting a sustainability program not only reduces waste by recycling materials and saving energy, but it also helps protect our communities.

Establishing a green team: One of the first things a hospital should do before implementing a sustainability program is to create a team tasked with leading the overall initiative. For example, the team might focus on increasing the amount and type of recycling practiced at the hospital; sorting waste streams to minimize the hospital's contribution to landfills; and increasing awareness of how employees can positively impact the environment. The team should be both empowered and supported by leadership to execute initiatives but also be held to specific goals.

Medical device reprocessing: Hospitals discard everything from surgical gowns and towels to laparoscopic ports after a single use. In operating rooms, items that are never used are thrown away in order to maintain a sterile environment and prevent infections. Proper reprocessing and sterilization of medical devices allows hospitals to reduce the amount of waste entering landfills. According to The Journal of Bone and Joint Surgery, reprocessed devices can cost half as much as new devices, which improves the hospital's bottom line without sacrificing clinical quality.

Capital equipment re-selling and recycling: Hospitals can generate revenue by selling surplus equipment for reuse throughout the world. There are companies that will re-sell these items via live auction, and medical equipment that is not purchased can be recycled. By re-selling or recycling capital assets, hospitals can generate revenue and reduce their waste impact on the environment.