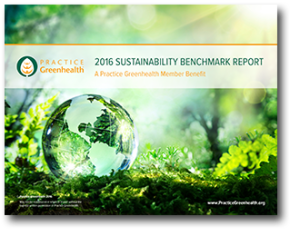 Practice Greenhealth has announced the availability of its 2016 Sustainability Benchmark Report.
Report Highlights:
"Third-party reprocessing of certain FDA-approved single-use medical devices offers huge benefits to the hospital in driving down RMW tonnage and disposal fees while also dramatically reducing the up-front purchase cost for a reprocessed versus a virgin device (often by around 50 percent). It is important to note that there are two aspects to a reprocessing program—the collection of devices bound for reprocessing and the subsequent buy-back of the reprocessed devices. While the collection of devices for reprocessing can offer significant avoided waste tonnage, the bulk of the cost savings and environmental impact reduction is in the buy-back of reprocessed devices. Medical device reprocessing has continued to grow within Practice Greenhealth member hospitals as evidenced by the yearly savings and tonnage growth indicated…"
The report also notes that to maximize reprocessing savings, hospitals must remain vigilant in managing their program. 
"…Purchasing reprocessed devices also requires considerable negotiation with suppliers—some of whom insert carefully written contract requirements for a certain portion of virgin devices that must be purchased for every reprocessed device bought back. Knowledgeable buy-back can sometimes be a slower implementation process. ….Supply chain leadership is key in negotiating these contracts."
Read More. (full access for Practice Greenhealth members)